Well post number 2 today.....you're welcome!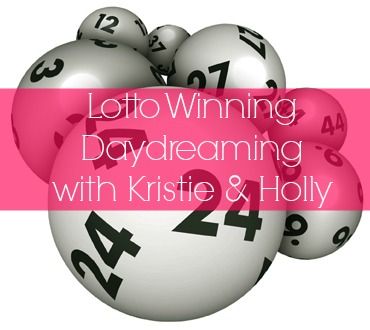 I couldn't resist this link up with Holly, because J and I talk about this ALL. THE. TIME!
1. I would buy a huge piece of land that J could hunt on and that I could not see my neighbor's house, BUT I am still within good distance of civilization so those bat shit crazy people don't try to break into our fort Knox!
2. adding to number one I would build my huge magnificent dream home with my own craft room, movie theater and state of the art gym fully loaded with my own trainer Jillian Michaels to kick my butt!
3. I would buy my own plane so we could fly wherever we wanted to go and make sure it was big enough to take people with us!
4. I would also be buying my Lexus SUV Black and fully loaded with all the bells and whistles ( you can tell I am dreaming now)
image from uncrate.com
5. I would go to France and take cooking lessons from a top chef, and I would be taking Luke Bryan with me to serenade me the whole time..and drink beer with J so he doesn't get bored!
6. I would spend a month in Hawaii in a suite where J and I could have unlimited room service
img source shedexpedition.com
7.I would buy stock in Target- so I can make some money off of myself- yeah that's right I am gonna make MORE money!
8. I would donate a large portion to ALS research- I know Holly you said you didn't want to see charities buttt I would do this anyway!
9. Mel, I can't help it but I am stealing this one- I would fly from coast to coast stopping at the BEST stores for a huge shopping spree!
img source prlog.org
10.On a more serious note, I would pay off my debt...blah blah blah blah...and I would buy my mama a brand new convertible!- because she's awesome and deserves it!
What would you do if you won the lottery?!