Well as I have posted before I am getting married in t minus 9 months and 22 days!
So today I am linking up with the lovely
Holly
and
Mel
...these two are super sweet and hilarious!! If you haven't checked them out, you probably should!!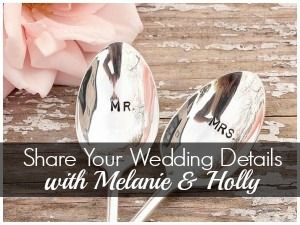 Let me start out by prefacing we have been engaged for a couple months I wrote about HERE..and this girl is pretty much done...except for cake testing on Tuesday...UM yes please! (wait why did I decide to do my cleanse now?!?!?!)
So I have been planning my wedding for ohhh 20 years?! Yeah that's about right....a lot has changed but a few have stayed the same...I love cake...and my bff is still my maid of honor just like I planned! (How often does that happen?)
On to the fun details!! :) I hope y'all are ready to see my redneck side! ;)
Location (church/outdoors/destination): We are getting married at the church J grew up in...we attend together now and plan on taking our children there...( aww how precious unborn children plans..imagine that) Its a small church, yet very pretty! I just love country churches! :)
Reception: Our reception will be at the River center in downtown davenport-lots of places for pretty pictures...its big enough to hold our ginormous guest list, but it is still gorgeous inside and fairly reasonably priced compared to other venues who hold 500.
Colors: ( this has changed a LOT over the years) So when I was 10 years old this would be in the 90's, we went to a wedding where they had purple hunter green and navy for their colors...omg I wanted those to by MY colors...I thought...now ummm no thanks...I chose colors that I am sure my children will think good Lord mom what were you thinking?! So colors are

Slate Gray

,

Cora
l

, and

"Pool" Blue

...its an aqua color and as close to Tiffany blue as I can get :) I am doing a very vintage/rustic "theme" so there will be lots of burlap, woodsy things, and vintage pieces. I can't wait to get the process going!
Bridal Party: Our bridal party is rather large I think, but I was informed it is actually pretty average anymore!...Who knew?...One of my best friends is my MOH, another bff (from grade school I might add) is a bridesmaid, plus my cousin, my brother's girlfriend (hopefully someday sister-in-law), one of my best friends from college (who I have mentioned here), The best man's wife (who I love to death, and wish they didn't live so many states away), and one Jr bridesmaid who is seriously the coolest 10 year old I have ever met! J's side has the same number with his buddies plus my brother but no jr attendant ( he's not as cool as I am). We are using his niece and nephews as the ring bearer and flower girl. Plus I am having another great friend from college be my personal attendant..aka my bitch...;) Love you W!
First Dance Song: J chose our first dance song..and claims he has had it picked out since he was 15..which I believe b/c this is a VERY 90's song..and that would be about right! ;) He's robbin the cradle ya know :)...haha jk but I love giving him a hard time about the fact that when he was in high school I was in grade school (it really freaks him out and is way too much fun to let go) The song is "Love of a Lifetime" by the Smokin' Armadillos ( see I told ya REDNECK!) I would post a video of the song if I could find it but this song is so old that it does NOT have a Youtube video!...This should be fun seeing if the DJ has it! It would not have been my choice, obviously because I have never heard of it..but I figured it meant a lot to him so I will let him have it....I guess! :)
Honeymoon: This is a surprise to me, as J thinks its the man's "responsibility" to take care of this part!...I am not sure where he gets his facts...but as long as I have a beach with unlimited alcohol and food (insert all inclusive) I don't have a preference! ( this may be shocking to most..because I am OCD!)
What would you do different? I am still in the process of planning, and I have changed a few things, but really I am happy with how things are panning out. I can't tell you how many people have told me.."Don't do the big wedding, go off and have a honeymoon and get married there"...those people have all had the big weddings. I may think differently later..but for now this is what i have dreamed of and I am ok with that! We know WAY to many people, and that is a good/bad thing. Our guest list is one thing I wish I could manage better, but what do you do?! I'm sure a few months before I will start freaking out...because I am sure there will be things left to finish, but right now I am enjoying it and loving the fact that I have the DJ booked, flower lady is booked, church booked, reception venue booked ( catering there), cake (testing on Tuesday), Our "ride" booked, dress is bought, photographer booked, and videographer booked. I just need my shoes (this could be a bigger task than the dress...i love me some shoes..and I will NOT buy ugly shoes), pick out paper for invites, figure out where I am getting Save the Dates, set up a date for engagement pics, and finalize cake!
I'd say I am doing pretty dang well. We are doing a LOT of the stuff ourselves, and I have it mapped out how I am spacing out the buying of things we need. I would share more details about all of the little things, but you will just have to wait until that post!
PS..I love my dress...but no more viewings until the day of! :)