It's that time again!!!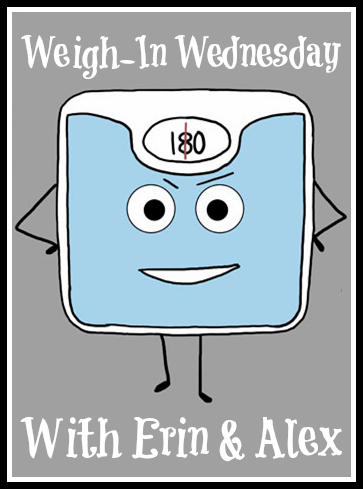 Go check out the lovely Hosts
Erin
and
Alex
Can I be super real with you today? I mean REALLLL, last night I had a breaking point. I am not sure what has been going through my head.
I want to lose weight, I want to look amazing in a bikini and a wedding dress (someday), I want I want I want. WHY CAN'T I DO!?
What is it that keeps you from getting your goals met?
Well for me it's piss poor goals, depression, craptastic weather, etc etc etc...also known as EXCUSES!
Excuses are like ass holes everyone has one and they all stink!
The biggest thing keeping me from looking and feeling amazeballs...is wait for it...ME!
Seriously WHY do I feel the need to set myself up for failure?! I did my weekly weigh in today..yes I got back together with the scale..and I have mixed emotions on that! I am officially only down 8 lbs from where I started in January.
I can't believe that is it...it's unreal until its wr

itten down, this just pisses me off.
The scale I have decided is not the issue..I am the issue! I am the one with the problems.
I had a full out cry session with Mama Bear last night and it was
UGLY (you ain't got no alibi)
not pretty..at all!
I keep trying these different mind tactics and none have worked..NONE I TELL YOU!
I tried the work outs in the morning..FAIL!
I tried MFP...FAIL!
I tried the tip jar- works when I work out....still trying to get to 100! (Ridiculous since I started that in February and I am not even to 30 yet!
I still refuse to do this anyway except ON MY OWN. I don't want diet pills, I don't want a diet plan..I don't want a DIET...I HATEEEE that word- Diets do NOT work I don't care who you are or how good someone says it works..if you can't do it FOREVER...the weight will be back..TRUST ME!
I need a kick start mentally and so Mama Bear has decided to come up with a wager for 2 weeks for me, now we just need to figure out a "prize" not involving food.
We are competing against each other, first competition is sugar ( usually not an issue for me, but lately..I feel like the cookie monster)
.
I may or may not have eaten

graham

crackers with frosting last nigh
t!
First one to eat sugar LOSES...after two weeks adding in another competition!
Now onto the yumminess that is grilled ( I love our grill for realls!)
So I have NOT posted a recipe in a LONGGG LONGGG LONGGG time, and this makes me sad, because that means I have not really been cooking for love just for necessity. I am a hugeeee Foodie, and a recipe Connoisseur as you all may know from previous posts. So I thought I would share one of my FAVORITE things to do on the grill :)
So here is the marinade for my
Grilled Asparagus
( TO DIE FOR)
15-20 spears of Asparagus
2 tbsp of Grape Seed oil (or Olive Oil)
4 tbsp of Balsamic Vinegar
Parmesan Cheese
Gallon Ziplock bag
Mix everything together in bag, set in fridge for 1/2 hour then place sticks on foil or directly on grill for 15-20 minutes (I like mine black, but when they start getting limp you know they are done)
I am determined that next Wednesday will be BETTER! This journey has been the most difficult BY FAR!
By far my favorite quote to use, and I do, DAILY!