I have never done a link up before and because I always read them and think "I should do this" I am going to follow through. What the what?! I chose this link up because its funny and I like funny things. Both of these bloggers know how to get a laugh go check them out
HERE
(Holly) and
HERE
(Jake)!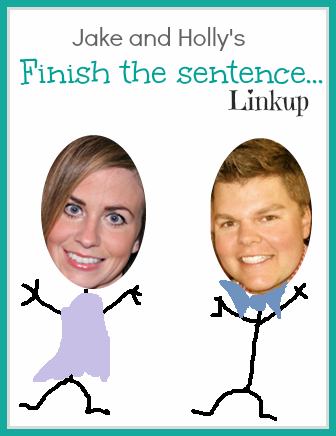 Finish The Sentence
1
.If calories didn't count I would eat
....my weight in pizza every other day with a side of nachos because lets get real after that dang 10 day cleanse with NO cheese I know that I will never EVER...EVER give it up again- EVER!
2.
On my prom night
....I went with a sophomore, who ended up picking up someone else and they started dating after- Prom night FAIL- but my dress was the bomb..lots of jewels puffiness and pink- I was not about to slut it up on prom night- although the sophomore girls there thought that to be the best choice of action-hmmm maybe that is why my date flew the coop....note to self!
3.
When I go to the store I always buy
...fresh produce and pray I can use it before it goes bad and I get "the look"- It's not often that I get that "look" but I don't like it- its the look of I told you you would waste it AGAIN!- GAH!
4.
Family functions typically
....start out good and all normal but then some one has to cock it up (what movie) and I leave annoyed and never so happy to get home- why do some people feel the need to get bat shit crazy in front of others? Keep that crap at home where it belongs!
5.
I think my blog readers
....are the bomb diggity because you come back to read! :) THANKS! I love hearing when people say they read my blog!
6.
I'd much rather be
...on a beach with a Miami Vice in my hands soakin up the sun instead of freezing my hiney off in Illinois-BOO!
7.
I have an obsession with
... expensive purses, shoes ( all kinds), Tiffany Blue- I am determined to own a piece from Tiffany's before I die!
8.
My work friends
...are just that "work" friends, try to keep things sepparate...ya know what I mean?!
9.
When I created my facebook account
...I def had a Myspace page still, and thought the cool kids had as many friends as possible and that it was ok for creepy guys you don't know to add you- YIKES- gotta love those first 2 years of facebook. ya know when you had to be in college to have an account...yes I am that old!
10.
My least favorite word is
..pit...as in arm...ughh it makes me shutter and I don't know why but its gross!
11.
I really don't remember
...where J and I went on our first date...I thought girls were supposed to remember this crap...I have racked my brain a million times and still..Nothin...that and a few choice nights from college- but I like to pretend they just didn't happen..I don't remember so it didn't happen...right?! like the tree that falls but no one is around so does it really make a sound!? My theory NO, and I will stick to that and deny any crazy thing I did unless it was awesome then I will totally own up!
12.
Justin Bieber
...makes me feel really old some days, but not too old to NOT bust out a car dance to his songs- that just happened!
Well that was fun, and it def made my blog post short and sweet today. Tuesday's are my least favorite day of the week- No NCIS re-runs on USA- what in the world are they thinking!?!?